Skip to Content
Working with Verette Means Confidence in Experience and a Guaranty in Quality
Our customers choose our basement excavation services to address specific repair issues, to increase the height and square footage of their basement and to support additions to their properties.
Things to Consider
1. Excavation
Whether your site is easy access or a tight space, Verette is experienced in specialized and standard jobs alike. We'll work with you to inform you what needs to be done and help you complete your job.
2. Demolition Needed?
Identifying your needs and being able to execute any aspect of your project is one of our specialties. We are your all-in-one specialist for your basement excavation.
3. Required Permits?
Most municipalities require building permits and inspection of work in progress. To best serve our customers, Verette Construction supplies all required permits and schedules inspections as needed.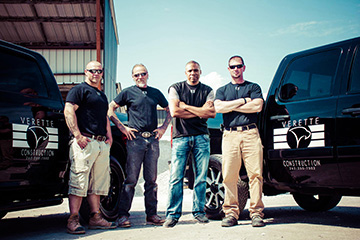 What to Expect from Verette
Our Promise
At the end of each day, Verette Construction will cover the work area to protect your family from dangerous falls and our work from the elements. We realize that excavation can be a disruptive process, so our crews go out of their way to provide a safe and clean work area. All of our machinery is landscape friendly and we clean up when the work is completed.
Depending on the size of the project, excavation work will take at least a week. We are certified, bonded and insured for your protection and ours!
Dream Homes Start With Solid Foundations